Salalah – Sultanate of Oman
COWI Partners LLC – Consulting Engineers and Planners/ASAAS - Muscat National Development & Investment Company SAOC
Hydrologic and Hydraulic Study
Consultancy Services for Hydrologic and Hydraulic Studies at Al Hafa Masterplan Project in Salalah
Consultancy Services the Hydrologic and
Hydraulic Studies related to the potential
flood Risk affecting the Al Hafa Development
Project in Salalah– Sultanate of Oman.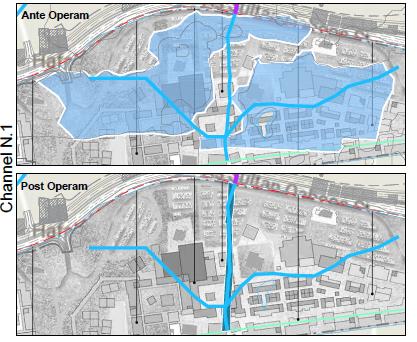 The Muscat National Development Investment
Company is planning to develop the Concept
Masterplan for the Al Hafa site that is located
in the coastal area of Salalah, along the
alignment of the Sultan Qaboos Road.
The study has been divided in two different
phases:
• Phase 1 – Hydrologic Study –we collected all
the morphologic, topographic, geologic,
rainfall, land use data, the wadi network
system of the study area. The hydrologic
analysis has been completed with the
calculation of the design peak flows, for
different return periods: 5 – 100 years;
• Phase 2 – Hydraulic Study – thanks to the
knowledge of the area, it was possible to
create a digital model of the river network
by which it was possible to produce several
cross sections, and then to study the
inundated area in case of several rainfalls,
corresponding to the different return
periods.